1 thru 10 of 2949 Stories
The Human Rights Campaign (HRC) and prominent food writer David Hagedorn once again bring together the capital region's top chefs, pastry chefs, and mixologists for Chefs for Equality -- an evening of food, cocktails and music to benefit LGBT equality.
A cocktail's appeal can sometimes have more to do with its origin than its ingredients. The Sazerac is no exception, but one part of its history is clear: this simple, strong cocktail was born in New Orleans.
Green chiles, the signature crop of New Mexico, are in danger. As this year's harvest begins, labor shortages, drought and foreign competition have hurt production in the state.
Contributor Kelsy Chauvin visits familiar stomping grounds and new venues in the Crescent City on the cusp of Hurricane Katrina's 10-year anniversary.
After six years of helping the Obama administration determine the nation's food policy, former White House chef and food policy adviser Sam Kass will now report on it.
Efforts are underway to save the green chile that's important to traditional New Mexican fare as labor shortages, a previous severe drought and competition from China, India and Mexico endanger its growth in the state.
The Food and Drug Administration is banning imports of some fresh cilantro from Puebla, Mexico, after a government investigation found human feces and toilet paper in growing fields there.
Head to western Massachusetts for a Gilded Age dream any time of year. From rolling orchards and farm-to-table to cuisine to an unparalleled cultural scene, the Berkshires is the perfect D.I.Y. getaway for a true sense of the American spirit.
Stephen Mosher gives you some tips on staying fit in the summer, while still enjoying delicious meals.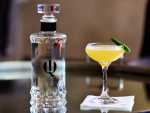 EDGE offers three unique tequila recipes from our friends in Austin, Texas.
1 thru 10 of 2949 Stories